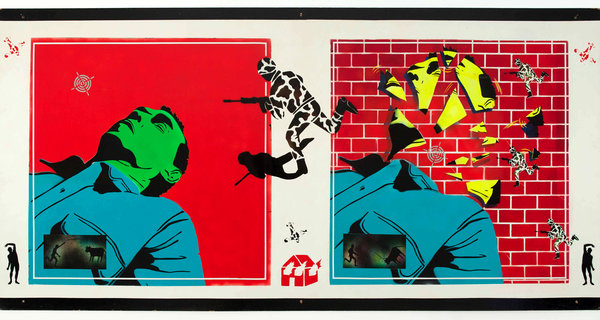 WOJNAROWICZ OBITUARY 
David Wojnarowicz, one of the most individual artists of the 1980's, whose impassioned and outspoken work about AIDS thrust him into the center of the recent debates involving the National Endowment for the Arts, died [in 1992] at his home in Manhattan. He was 37 years old. He died of AIDS, said his companion, Tom Rauffenbart.
Like the artist himself, his art never pulled punches. Mr. Wojnarowicz gained the national spotlight in 1989, when the National Endowment for the Arts decided to rescind money for a catalogue to an exhibition about AIDS because of an essay in which he attacked various public figures. The endowment reversed itself.
Wojnarowicz Obituary in New York Times
 WOJNAROWICZ COURTED CONTROVERSY EVEN POSTHUMOUSLY 
One day before World AIDS Day, the renown painter, photographer, writer, filmmaker, performance artist and activist David Wojnarowicz, who died in 1992 at the age of 37 from AIDS-related complications, has had one of his most important works, 'A Fire In My Belly', pulled from The Smithsonian Institution's National Portrait Gallery's "Hide/Seek" exhibit because of pressure from conservative politicians and the Catholic League. 
WOJNAROWICZ ART
Mr. Wojnarowicz (pronounced voy-nah-ROH-vitch) worked in many media, often mixing them together, to produce an art that was distinguished by its rage and its spirit of personal longing. His paintings, photographs, installations, performances and writings railed against the status quo as they also mourned death. He dealt not only with AIDS but with many other issues, both public and private. His art could be simplistic and preachy. Yet it could also be unnerving, wry and very moving.
In his paintings and photographs, which sometimes incorporated texts, he borrowed from popular culture and created images that could be darkly surreal.