"Those who have suffered understand suffering and thereby extend their hand…" –Patti Smith
It is not what is said so much as how. Language a series of vantage points. Poetics a series of strategies for producing valances sometimes shaped like words which refer simultaneously in multiple, even apparently contradictory, directions, to other networks of syllables or sounds or clusters of silence or colors emotions realization without reification way out beyond beyond any need of mind to locate itself in space-time.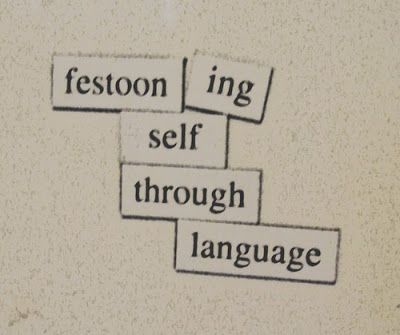 Writing is a spiritual technology dependent on shading-in, persisting, establishing, firmly occupying, concretizing immaterial, invisible (to physical sight), subtle ever-shifting energy traces. There is always to be expected to a tension or gap between mind and brain platform, between possibility and its necessary mask or we wouldn't know the difference.
Writing as phenomenology, the science of consciousness, an inquiry into inquiry itself. A bracketing out of the "factual" in favor of intuition, imagination or speculation. Clearly the facts do not add up to their own consequences: WHY? Here is where oneself comes in, only to exit immediately thereafter.
Perhaps "things" can be studied more clearly in their distortion. Because they are already that. Like old-fashioned black-and-white tv with rabbit ears. But in the interstice awaits the moment to happen which can always and will always be right now.
So there is the problem of suffering, but everyone loves a good joke. But what makes a good joke (as opposed to a merely passable one) is the way that it is told, not what happens but how, the angle or character's viewpoint assumed and the timing of the words the tip-tap typing of an infinite number of monkeys.
The universal is realized most potently through the specific. The more specific, in fact, the more universal. Our intent is not, however, to be necessarily universal at all, but only to be true to that specificity of experience which articulates itself in the mind-field which may be slightly out-of-phase or even wholly separated from what an impartial outside observer (as if there was such a thing) might consider "objective" reality. On the other hand, to be swallowed by sheer subjectivity only reifies existent neuroses or creates new ones. One answer lies in the paradox or joke, in the open meaning afforded by a certain linguistic twist or torque. But even this must be stumbled upon as if by accident and even rejected as the solution until it is finally proven that MONSTERS EXIST.
After which, "things" begin to make a bit more sense.
Author bio:
Kurt Cline has been a poet and performance artist for the past thirty years. His poems have won awards and appeared in numerous small-press magazines in America, Europe and Asia, and his performances have garnered media attention and many positive reviews. His full length poetry collection Voyage to the Sun: Poetry and Translations was published by Boston Poet Press in 2008. Cline's folk-punk CD, Alien Shoe came out from 12 Studio in Taiwan in 2013.  He is currently Associate Professor of English and Comparative Literature at National Taipei University of Technology.  Scholarly articles have appeared in Anthropology of Consciousness; Tamkang Review, Glimpse: Phenomenology and Media; Cuadrante and Communication, Comparative Civilizations and Cultures: Journal of the Jean Gebser Society.