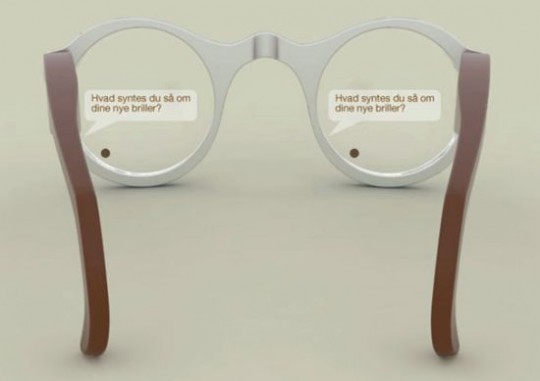 The shift to digital books has fueled an arms race among digital start-ups seeking to cash in on the massive pool of data collected by e-reading devices and reading apps.
–Alexandra Alter, "Your E-Book is Reading You," A&E, July 19, 2012
While e-reader manufacturers struggle to make sense of the reading habits of more than a hundred million digital-device enthusiasts (40 million e-readers and 65 million tablets are in use, according to Ms. Alter), little or no attention is being given to the growing frustration with even the most sophisticated devices: they still have to be held in most situations. If we're going to forego the sensory delights of physical books, we should at least encourage development of innovative accessories that will remedy this problem. The following accs should please even the most indolent e-book lover.
• The H- (Head or Hat) Acc. Bound to ignite a new fashion trend, the head acc tethers the e-reader to the top of the skull (like a beanie with a sloping tether), or to the bill of a baseball cap. The tether is sturdy yet flexible enough to permit reading at any angle—up, down, straight ahead, or sideways. [Those who prefer to read on thier sides, take note: this acc can be stretched to twice its length to permit reading off the hip.]  And as you rhythmically thumb the pages, you'll set the H-acc a-swaying, gently enough to make you sleepy.
• The F- (Foot) Acc. Sometimes the snazziest innovations are hidden in plain sight, just like one's feet while reading in bed. This simple peda-clip-on acc will enable any reader  (especially far-sighted ones) to stretch out on the bed or sofa and foot-read, even with the feet covered. Yes, you'll have to bend forward to change pages, but just think of the workout you'll be giving your flabby abs when doing so!
• The O- (Omphalos) Acc. Named for Zeus's umbilical cord, this belly-hugging reading acc comprising three flexible flying buttresses lets your e-reader sit comfortably on your midriff. Ideal for anyone wishing to read with legs propped on a desk, or splayed on a hassock or in a hammock, or even while leg pedaling.
• The N-T-H (Not Tonight, Honey) Acc. This welcome e-reader accessory clips to the recharger cord, which one then coils around your beloved's waist while he or she is either facing toward or away from you (preferably the latter). A good time to slip it on is during or immediately after spooning. Also, the N-T-H acc has a vibrating option (speeds vary) to soothe both you and your partner as you page with bated breath through the latest Jack Reacher thriller.
• The D-T-E (Direct-To-Eyeball) Acc. This is fringe, no doubt, destined to make Google Glass (the image-accessing program you wear like a pair of glasses) seem quaint by comparison. The D-T-E acc release date may be delayed, pending further testing; but I've seen a prototype and it is, well, eye-popping. The acc consists of electrodes in the guise of contact lenses which are placed directly over the pupils; the electrode wires connect to the e-reader. The text thus occupies your entire field of vision. Now here is what's most clever about this acc: One turns the pages by blinking twice. Of course, anyone suffering from spasmodic blinking, or even blinking more than twice per second, will be obliged to quadruple his or her reading speed—but, as is the case with the foot-acc, it would be a blessing in disguise.
Additional e-reader accessories will almost certainly appear on the market once the terabytes of data on e-reading habits are thoroughly mined, new NSA directives notwithstanding. Marketers and investors are interested in the peculiar reading habits of e-text consumers insofar as they intertwine with contiguous habits such as lounging, napping, or gazing into space. It has been theorized that reading is as much a physical act as a cognitive one; hence, these suggested accessories are likely to make digital reading an even more pleasurable experience than print-book reading, especially when one considers how previously overlooked portions of the anatomy may now be made part of the reading experience. At the very least, these accs should make the retro-head fuddy-duddies think twice about accusing e-reader manufacturers of alienating humanity from the sensory pleasures of print.
Author bio:
Fred writes: "My fiction has appeared in The Brooklyner, Burningword, MadHat (forthcoming), Other Voices, etc. My one-act comedy, 'The Psychopathology of Everyday Life,' has been published–and is available for production–via Heartland Plays. I live near Sacramento, CA."