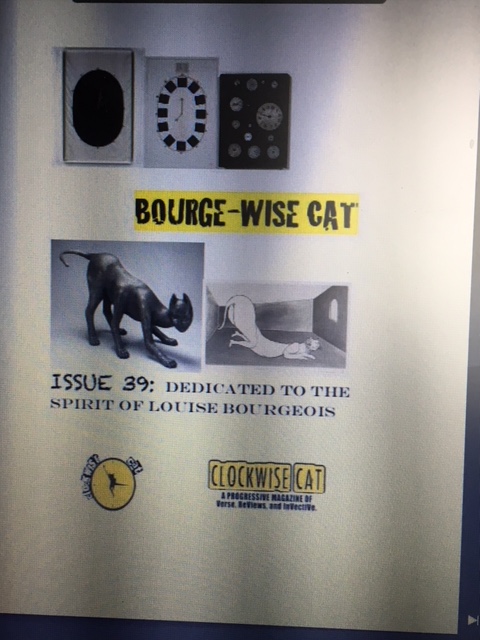 After months of dreaded delay, Bourge-wise Cat, aka Issue 39 of Clockwise Cat, has finally arrived to virtual bookshelves the world over. This issue is dedicated to the spirit of the late, great artist Louise Bourgeois (yes, we know she died in 2010; we are a bit belated in honoring her, so SUCK IT (but really, we are honoring the free-spirited tenor of her work, so, yeah)). Issue 39 features a torrent of talent: Vivid visuals inked by the luminous likes of Sheila Murphy, Erica Olson, and Alexei Kalinchuck, and screeds and skewering satire spilling forth from the quills of Matt Kolbet, Fred White and education writer Steven Singer. We also spotlight potent poesie by Charlotte Ozment, Mel Waldman, Heller Levison, Jenn Storey, B. Diehl, Amy Leblanc, Bob Heman and Cindy Hochman, Heath Brougher, Felino Soriano, Cracker Daniels. Susan Cossette is our fierce and Featured Femme. And finally, yours truly has memorialized vaunted anarchic spirits author Ursula K. LeGuin and Fall frontman Mark E. Smith, and scripted reviews of the bands Magazine and The Wipers, of the movies Last Flag Flying and Get Out, and, most saliently, of the terrific tome, Ghazals 1-15 and Other Poems by Michelle Greenblatt and Sheila Murphy (Unlikely Books). Dig in, freaky freaks!
Read Issue 39 at Yumpu:
https://www.yumpu.com/en/document/view/60005629/bourge-wise-cat
Purchase Issue 39 at Peecho:
Link coming soon!